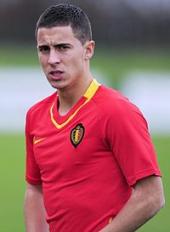 Hazard dikatakan pemain muda terbaik Eropah
Arsene Wenger kini sedang berusaha untuk mendapatkan Eden Hazard dan sanggup menunggu sehingga tamatnya musim perpindahan. The Gunners telah membuat keputusan bahawa hanya Eden Hazard yang sesuai untuk menggantikan Cesc Fabregas dan Samir Nasri.
Namun begitu, Lille dikatakan sukar untuk melepaskan Eden Hazard kepada Arsenal memandangkan pemain itu merupakan pemain yang penting buat kelab itu pada masa sekarang. Arsenal percaya Eden merupakan pemain muda terbaik Eropah pada masa kini.
Arsenal berjaya membawa masuk Park Chu-Young yang kini sedang berunding dengan Lille untuk melengkapkan perpindahan itu.
Bagaimanapun Arsenal yakin mereka akan berjaya membawa Eden Hazard ke Emirates Stadium sebelum pintu perpindahan ditututp pada Rabu.
INVITE FRIENDS TO CHURPCHURP TODAY!