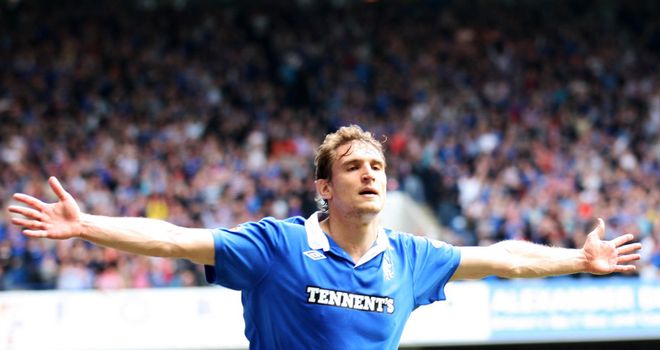 Jelavic kini gembira dengan prestasinya di SPL apabila berjaya menjaringkan 16 gol dalam 23 perlawanan.
Pemain kebangsaan Croatia itu kini dikatakan menjadi buruan juara Liga Perdana Inggeris, Man United. Walau bagaimanapun dia menyatakan bahawa dia gembira di Scotland.
Bagai manapun, dia mungkin tidak akan menolak sekiranya mendapat tawaran dari Red Devils.
"Manchester United? Well, that would be of course very hard to reject. But I only read about Red Devils in newspapers.
"Of course I'm happy to be linked with such a great club, but I really don't know anything about this. Me and Walter Smith, who knows Alex Ferguson very well, joked about this stuff.
"He was telling me, that Fergie is building team for me to fit in. But in reality I doubt that he would talk with Ferguson about his players... But of course, if Manchester United make an offer for me then I couldn't stay in Scotland.
"United is a club you can't say no to. If Newcastle United call then I'd stay in Glasgow, no doubt."
INVITE FRIENDS TO CHURPCHURP TODAY!
ARE YOU THE 'MOST WANTED?'
MAROON 5 GRABS HTC!