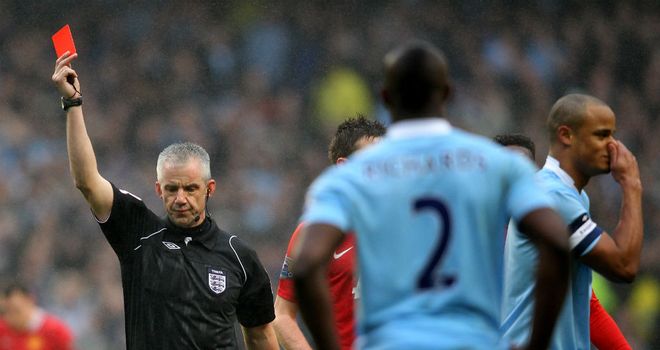 Vincent Kompany membuat kenyataan selepas kekalahan 3-2 kepada Man United bahawa mereka menang dari segi moral.
Kapten City itu tidak merujuk kepada layangan kad merah yang diberikan kepadanya oleh pengadil Chris Foy di atas kesalahan menerjah Nani ketika perlawanan memasuki minit ke-12 di Etihad Stadium.
Pemain kebangsaan Belgium itu bakal berhadapan penggantungan empat perlawanan kerana menerima kad merah kedua pada musim ini, bermakna dia bakal terlepas perlawanan separuh akhir Piala Carling menentang Liverpool dan juga perlawanan liga menentang Wigan dan Tottenham.
Bagaimanapun, pengurus City, Roberto Mancini menyatakan bahawa mereka akan membuat rayuan dan berkemungkinan nasib akan menyebelahi mereka.
Dan Kompany juga mengeluarkan kenyataan melalui Twitternya: "The fans, the players and every single person involved with Man City FC were incredible today. Definitely the moral winners of this game."
Manakalah Aguero pula melalui Twitternya berkata:"I seldom try to find excuses or comment on the referees. But the unfair expulsion of Vincent Kompany conditioned the whole game."